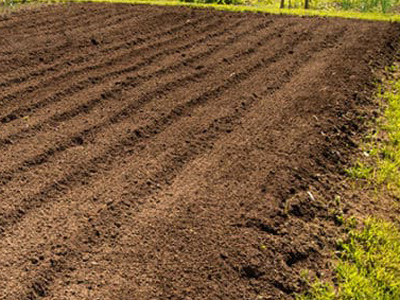 There are many benefits of garden tilling. It increases the air in the soil and stimulates aerobic bacterial activity. It is recommended to have your garden professionally tilled twice a year. It helps warm up the spring soil, thus triggering an earlier seasonal growth. It simplifies and speeds up organic matter breakup and releases heat as energy. During the fall, it helps amend the soil. When tilled in fall, we can add organic matter from the dying vegetable plants. This increases compost content and boosts nutrients and tilth.
Professional Garden Tilling Services
If you need professional garden tilling services in Auburn, AL, or the surrounding areas, we at Creative Habitats provide you comprehensive services. Every time spring arrives and fall leaves, your garden needs preparation. We will till multiple times in different directions to ensure fine loosening of the soil. We can also provide compost and till it in to enrich the soil.
When to Till Your Garden?
Your garden will need tilling if it is bare, dry, hard, and has weeds. Almost all traditional gardens look like this every spring. It will also require tilling if it is time to plant. Even a new garden area will have to be tilled. We will recommend beginning with a soil examination. If we dig up some dirt on inspection and it to be rock hard, our experts will highly recommend tilling.
The right soil will allow roots to grow and spread fast. But this will increase the demand for water and nutrients for healthy and productive plant growth. Our crew of experienced tillers can make quick work of a job that could take your days to complete.
Tilling Your New Garden
If you have a new garden, the soil will need to be tilled once it warms up in the spring. The soil must reach 60°F before work can begin on it. We will remove sod before the process or we can work it into the soil. When the sod is worked into the soil during the fall, the soil will get an infusion of nitrogen. However, tilling sod under during spring can result in the grass resurfacing as the temperature increases.
Tilling in Fall
Soil improvement is best done in the fall. When soil amendments are tilled at that time, they get settled in and break down during the winter. This allows your garden to be ready for a new crop when spring sets in.
The right soil must allow the plants' roots easy access to water. It must also be rich in nutrients. Besides, it must also allow proper drainage of excess water. We will conduct a soil inspection before determining the tilling needs of your garden. This can also include testing the soil for levels of nitrogen, potassium, phosphorus, and pH level.
We can help you determine whether your garden needs tilling or not. For more information about our services, get in touch with us. You can reach Creative Habitats at 334-524-5408. We will put you in touch with our specialized garden tilling expert to guide you with our process. You can also send us an email at designsbycreativehabitats@gmail.com.